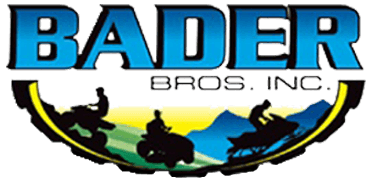 The Hillman store is now owned by County Wide Powersports. Click
here
to visit their web site.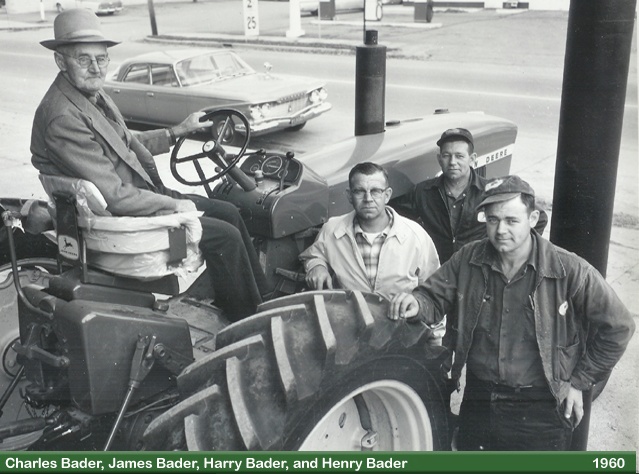 A Bader Family Tradition since 1934
The Bader Family has served farmers in Tuscola County since 1934. With locations in Reese, Birch Run, Saginaw, and Hillman, the authorized John Deere dealer (except Hillman) served not only Tuscola county, but Saginaw, Bay, Genesee, and Alpena counties.
Charles Bader, a Reese area farmer, acquired the dealership in 1934 after the death of Sam Burrill in 1933. With the addition of his sons in 1947 Harry, Henry, and James, the company name changed after 13 years from Chas. Bader Implements to Chas. Bader and Sons. When James opened a separate store in Sandusky Mi. in 1960, the name changed again after 13 years to Bader Bros. Inc.
In 1974, a second dealership was built in Birch Run to better serve Bader Bros Inc. expanding customer area. Computerization was added in 1988 with on-line hook-up to the Birch Run office, bringing Bader Bros. up to date with current technology . At that time a second story was added to the Reese dealership. This allowed space for four offices, an employee lunchroom, and a computer room. In 1990, a 5000 square foot addition was built on to the main building at Reese which provided more service area.
Bader Brothers acquired the former Burger Sales on Bay Road in Saginaw in the spring of 2003 and opened their third dealership. In May 2006, a 3600 sq. ft. addition was constructed to allow for more service capacity at the Saginaw location. A complete makeover took place in late 2007 at the Birch Run store, swapping the sales area with the parts department and adding handicap accessible restrooms.
In December 2007 Bader Bros. Inc. acquired the former Case dealership in Hillman Michigan making this the fourth store in the Bader Brothers group. The building is located on M32, just two miles west of M65. A 40' x 60' addition for retail and parts display was added, making this fully handicap accessible. This location was to serve Montmorenci and Alpena counties and all of northeastern Michigan with agricultural service. John Deere products not available at this location.
In 2009 we celebrated our 75th anniversary with an open house at our Reese and Birch Run locations. We had over 40 two-cylinder tractors on display brought in by our customers that day. Many old pictures were on display, including the original John Deere contracts issued to Sam Burrill in 1933 and Charles Bader in 1934. In fact, we still have these on display. Talk to David if you would like to see them and other historical memorabilia from the Bader John Deere dealership days. From the original 66' wide lot in 1934 to the full line John Deere Farm, Lawn, and Garden Equipment dealerships, the Bader Brothers stores had been known for their stability and good service.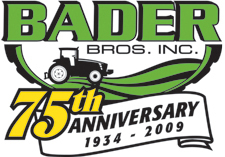 Continued pressure from our major supplier to either expand or sell prompted us to acquire the Hillman location. After extensive remodeling and additions there, that supplier decided there was not enough 'market potential' and we were denied the ability to sell their line of equipment in Hillman. We then turned to other brands and sold Stihl, Cub Cadet, and some AGCO lines. In October 2010 we reluctantly sold our John Deere dealerships to a neighboring dealer and at the same time closed our Hillman location due to terms of the sale.
In late 2012 we decided to re-open our Hillman location with the Polaris line of ATV's, side-by-sides, and snowmobiles. Stihl and Cub Cadet were also back in the product mix. In 2014 Arctic Cat and ARGO lines were added, and in 2015 the BRP (Bombardier) line (including Can Am, Ski-Doo, and Sea-Doo) was added, as well as Sno-Way snow plows. Due to poor sales performance, we dropped the Arctic Cat and Argo lines in the summer of 2018.
As of September 1, 2021 our Hillman dealership has been sold to County Wide power Sports from northwestern Michigan. This was Bader Bros. last location, and with this store selling and the recent sale of the Bader & Sons John Deere stores (a cousin of Dave's) this marks the first time since 1934 that there has not been a Bader Family store serving Michigan.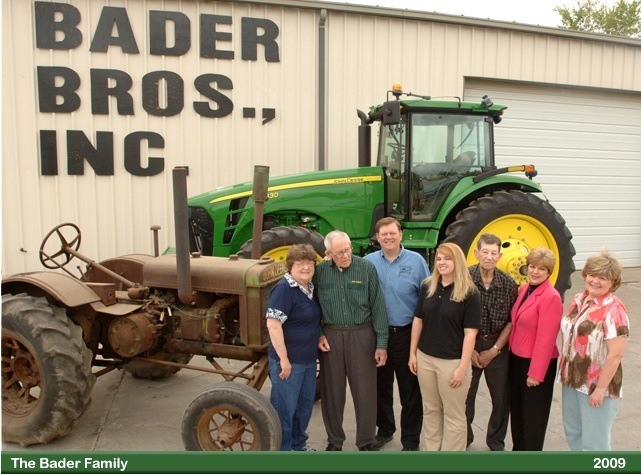 Thank you to all of our many friends and customers that have supported the Bader family through the past 85+ years. We are very proud of our accomplishments and contributions to the communities that we served. If you would like to contact Dave or Milinda feel free to do so. Our email addresses are:
dbader@baderbros.com
and
mbader@baderbros.com
. Thanks again.
David & Milinda Bader